Home
1944-1945
June Howden, Air Transport Auxiliary
June Gummer (nee Howden) told her story to Wg.Cdr. Alan Watkins in 1999 via several letters from her home in Whangarei, New Zealand. She included photocopies of sketches she had made on her way to the UK in 1943 and during her time with the ATA. They are a great record of life in the ATA and at Haddenham in particular.
The captions are mostly June's - I've added my comments where appropriate.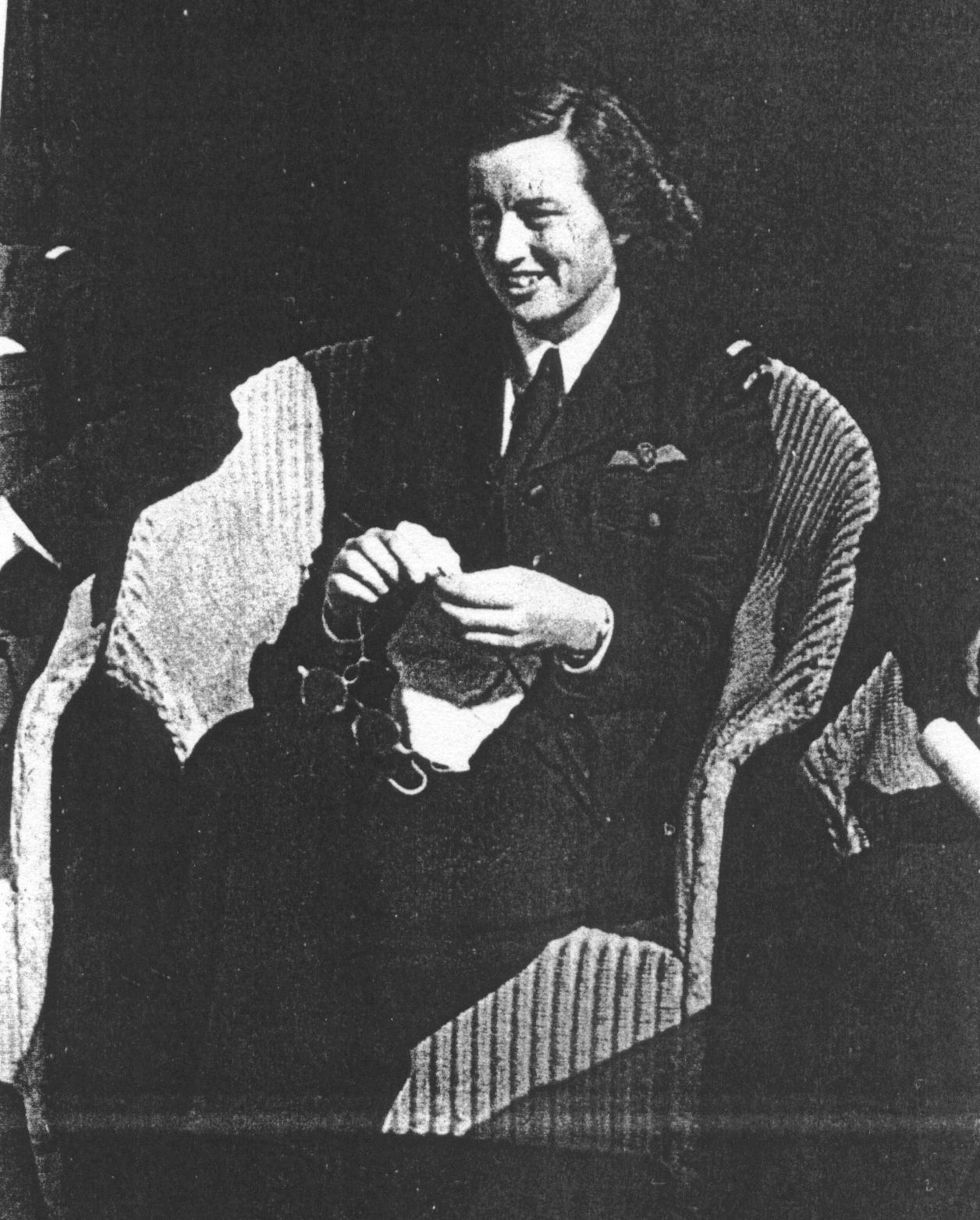 June Gummer (then ATA trainee June Howden, later to become a Third Officer, ATA), knitting whilst waiting to be called for dual flying training.
| | |
| --- | --- |
| Sister ship 'Sydney Star' - Atlantic Nov 1943 | Refuelling Corvette from 'Australia Star' - Atlantic Convoy 1943 |
| | |
| --- | --- |
| A quiet day at Barton-in-the-Clay 1944. We went by bus daily to Barton from Haddenham for initial Miles Magister training and cross country exercises. A group is gathered around the porkbelly heater; a chap with parachute is leaving for instruction; a dog is making the best of it; a chute is on the table whilst the chap studies etc. | Ground School: a chap studying his map |
| | |
| --- | --- |
| Some squiggles - Wasps in a Fairchild Argus taxi plane using the Form 700 to swat them; and transport to the Mess by ambulance vehicle. | There was I ! (with nothing on the clock but the makerís name) |
| | |
| --- | --- |
| A Fairchild Argus. These were used as taxi aircraft, to transport ATA pilots between their home base and the airfields to, or from, which they would be ferrying aircraft. | One of the Schoolís Oxfords |
| | |
| --- | --- |
| One of the Schoolís Spitfires | No2 School Spit Mk.V |
Built in Castle Bromwich at the end of 1940 Spitfire MkIIa, P7619, lasted the entire war before being struck off charge in September 1945. It originally served with 19 Squadron at Fowlmere where it was credited with at least one Me109 damaged over France whilst being flown by W/C Roy Dutton. It was used by the ATA for about 16 months from May 1944.

Spitfire (at Cosford, actually).

The photo shows Rosamund Everard Steenkamp (right), Jean McPherson, Monique Agazarian and Mary Guthrie.

Rosamund Everard Steenkamp was niece of Sir Lindsay Everard of Ratcliffe Hall, who was President of the Royal Aero Club at one time. Ros was an experienced pilot, her home was in South Africa.
Ros was killed on 19.3.46 whilst still ferrying for the RAF. A Spitfire, Griffon engined playing up over Pound Green, Wyre Forest - made for a semi clearing - young trees - hit a tree and was killed.
She was a brilliant violinist, a kind and considerate, delightful person.
Monique Agazarian ran a Link Trainer postwar, opposite Harrods in London. Before that she owned and operated her own airline, Island Air Services, out of Heathrow and Croydon Airports, I think to the Scilly Isles. Dominies I think she used.
Mary Guthrie married Jock Cunningham, a friend of my cousin, Jock was in the navy I think.

Iíve lost touch with Jean. Monique died last year, I think - she had the sound of a Merlin engine at her funeral service instead of a dirge - coming, passing, fading.

Outside Yolsum House billets, across the road from the canteen and office, near the airfield entrance.

Waiting for dual training -
Joyce Tharp (nee Fenwick), Len Townsend and Rita Baines.

Maureen, Audrey and Joy. Maureen used to phone her mother every night with "Iím all right Mummy". She had engine failure on a Mustang near Bristol, got it down intact wheels up (not many large fields near Bristol!). An elderly farmer pounded up and asked her "Where are the wounded?"; he collapsed, she laid him on the wing, undid his collar & tie and when the ambulance arrived, it took him off to hospital!

Joy (Gough) Lofthouse was Yvonne MacDonald's sister, see Ferry Pilots main page.

Joe Davies, Joy Gough and Pete Sherman waiting for the Wimpy at K.B. 8/7/44

'Wimpy' is the nickname for the Wellington bomber. KB is presumably Kingston Bagbuize,a satellite airfield to RAF Thame since the Glider Training School days.

Two head studies: Elspeth was a Canadian, Elizabeth was English and a friend - now Mrs Page, we still keep in touch.
The Old Cider House, Haddenham.

One of several billets used at Thame - Hopefield House.

Bucks - Bicycle trips around Haddenham area.

Beech trees on a hill overlooking Barton-in-the-Clay airfield in 1944.

Nether Winchendon: a worn stone entrance to the church.

Castle Bromwich from a painting in sketch book. Top of haze and smog mix in 1945 - usually clear above 2,000ft in 1945. Typical early morning smog - later, when mixed, it was usually possible to land. End of Castle B's runway visible bottom left. This copy is darker than the original unfortunately.

The Castle Bromwich Aircraft Factory built over half of the 20,000 Spitfires produced - for a description of why the power station and chimneys depicted here were so important to pilots landing at Castle Bromwich airfield you should read Alex Henshaw's 'Sigh for a Merlin'.

The images on this page are copyright June Gummer, New Zealand.
Used with the permission of Wg.Cdr. Alan Watkins.

June Gummer, New Zealand, Christmas 1999.
©Copyright Peter Chamberlain, 2010, 2011