Thomas Cholmondeley Tapper and Dennis Fox who had opened the airfield in 1939 returned from the war having both suffered injuries.
Dennis crashed his aircraft due to loss of fuel returning from a bombing raid. He suffered terrible injuries with multiple broken bones. In fact, he had the 'distinction' of surviving the greatest number of broken bones of any RAF casualty, something he suffered from for the rest of his life.
Thomas was rejected on medical grounds from flying with the RAF and so joined the Air Transport Auxiliary. In fact he spent his training at Haddenham with No5 Ferry Training Pool which must have seemed very strange! However it had it's compensations as he met his future wife, Margaret Watson, here. Thomas suffered severe head and leg injuries in a car crash on his way to the airfield at Kirkbride, home of No16 Ferry Pool.
On de-requisition from the Government the aerodrome was handed back to CTF Aviation, not entirely unstintingly because they charged the two for the land that had been acquired when the airfield was extended! It was this that probably prompted the pair to sell the airfield.
In August 1946 a firm called Chartair was founded at Haddenham by Grp.Capt. Guy Lawrence to do air charter work, initially with a Percival Proctor but soon after with four Airspeed Consuls (which had been purchased on behalf of Air Malta which Chartair had a one-third stake in). Most of their work was done from Croydon which was still London's main civil airport. Group Captain Lawrence had been awarded the DFC, DSO and OBE for his two tours of operations in Bomber Command, flying Whitley's, Lancasters and Halifaxes. He had also been a member of the British Ski Team before the war, (is this how he knew Thomas Cholmondeley Tapper? Guy Lawrence was knighted in 1976 having become a major figure in the food industry).
Chartair bought Haddenham Airfield from CTF Aviation on February 14th 1947 with the aim of developing an aircraft overhaul and maintenance centre for the rapidly growing number of small airlines springing up in Britain and Europe. This new concern was to be called Airtech Ltd and its first Directors were Guy Lawrence, Wing Cdr. D.S.Green and Thomas Cholmondeley Tapper and Dennis Fox. Shortly after the purchase Chartair merged with British American Air Services which was running freight services from Bovingdon using Halifaxes.
In the beginning the majority of work consisted of engine purchase and overhaul, especially in connection with the Bristol Hercules which was the powerplant for the Halifax which itself was becoming the workhorse of small cargo firms. One batch of engines destined for scrapping at International Alloys in Aylesbury, (but actually a brand new contract completion batch), was purchased at minimal cost and following an inspection by a D Licensed engineer bought in from BOAC was then sold on at great profit. Within just a few months the company had rapidly organised its resources to a point where Halifax, Dakota, Consul and Rapide airframe overhaul and repair was well under way as well as overhaul of Hercules, Cheetah and Gipsy engines.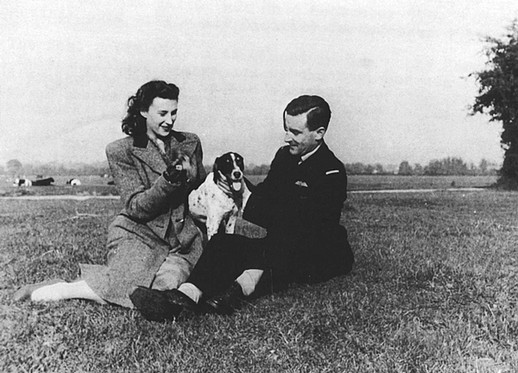 Thomas Cholmondeley Tapper and Margaret Watson shortly after their wedding in 1945.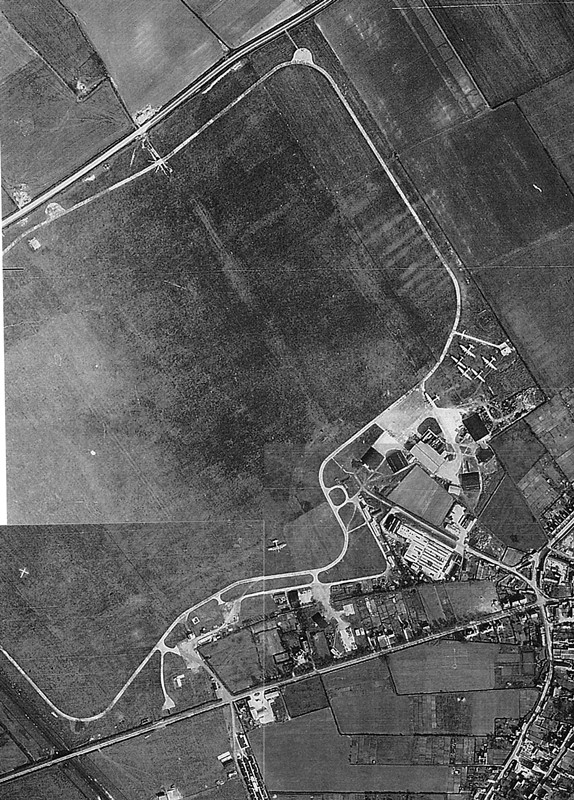 This photograph was taken in 1950 and shows very well how the airfield had been extended during the war. The remains of Windmill Road can be seen as a 'parch' mark across the centre of the airifield. Several Halifax bombers can be seen outside Airtech's premises. Compare this shot to that in the chapter on wartime gliding at Haddenham.